Pada September dan Oktober—waktu musim semi di Australia, adalah musim melahirkan bagi kelelawar rubah terbang berkepala abu-abu. Mereka kembali ke taman dari migrasi musim dingin mereka di pesisir pantai.
Para kelelawar betina melahirkan anak-anaknya dengan normal dan sesuai dengan jadwal. Setidaknya itulah yang terpantau oleh ahli biologi Stephen Brend di Yarra Bend Park, Provinsi Victoria.
Namun, tiba-tiba suhu meningkat menjadi sangat panas dengan cepat.
Tak mampu bertahan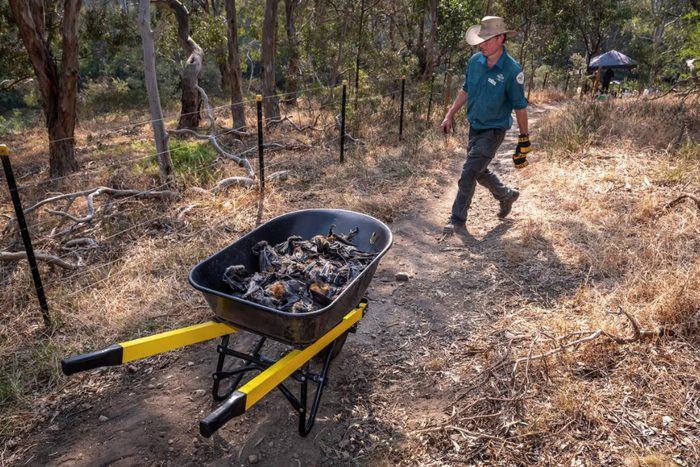 Karena tak mampu bertahan pada suhu yang ekstrem tersebut, rubah terbang sekarat. Sekitar 4.500 rubah terbang berkepala abu-abu mati tepat tiga hari sebelum natal saat suhu mencapai di atas 100 derajat Fahrenheit (37,7 derajat celsius).
Suhu panas ekstrem ini juga menimpa dan berdampak bagi seluruh satwa liar di Australia. Puncaknya ialah kebakaran hutan yang melanda hutan Australia yang menewaskan ratusan juta satwa liar dan endemik.
Tahun 2019, memang menjadi tahun terpanas sekaligus terkering bagi Australia dalam sepanjang sejarahnya.
Spesies terancam punah
Menurut International for the Conservation of Nature (IUCN), spesies kelelawar ini didefinisikan sebagai spesies yang terancam punah. Sehingga, dengan tewasnya ribuan kelelawar ini, eksistensi spesies mereka semakin mengkhawatirkan.
Hal yang sama juga terjadi pada koloni rubah terbang di wilayah lain. Di New South Wales, di mana suhunya mencapai 121 derajat Fahrenheit, ribuan bayi rubah terbang mati di sarangnya pada tanggal 4 Januari.
Bayi-bayi mereka membutuhkan susu dari induknya, energi induknya pun berkurang. Inilah yang menyebabkan mereka lebih rentan terhadap suhu panas.
Akibat panas ekstrem di Australia, sebuah studi menemukan fakta bahwa antara 1994 dan 2007, ada sekitar 30 ribu rubah terbang berkepala abu-abu mati. Meskipun demikian, suhu panas di tahun 2019 merupakan yang terparah, terlebih terjadi setelah musim persalinan spesies tersebut.
Bermanfaat bagi hutan
Kelelawar rubah terbang memiliki peran ekologi yang sama besarnya dengan lebah. Mereka menyerbuki pohon, membawa benih, dan menyuburkan hutan di malam hari.
Kelelawar membutuhkan hutan dan hutan memerlukan kelelawar. Di tahun yang ekstrem ini, semua spesies menderita. Mereka kepanasan, dan itu merupakan mimpi buruk.