Video 'Beauty With a Purpose' Astrid Ellena Miss World Indonesia 2011
Video 'Beauty With a Purpose' Maria Raharjeng Miss World Indonesia 2014
Video 'Beauty With a Purpose' Maria Harfanti Miss World Indonesia 2015
Video 'Beauty With a Purpose' Achintya Nielsen Miss World Indonesia 2017
---
Miss World adalah salah satu kontes kecantikan internasional yang didirikan pada tahun 1951 di Britania Raya. Pendirinya adalah Eric Morley.
Miss World merupakan organisasi yang didirikan untuk kepentingan sosial, pada tahun 1980-an, kontes ini mereposisi dirinya dengan menggunakan 'Beauty With a Purpose' (Kecantikan dengan Tujuan) sebagai slogan resminya.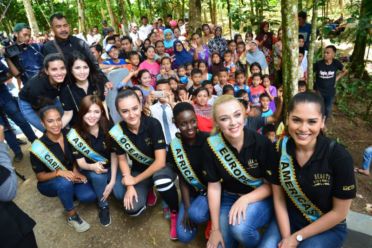 Beauty With a Purpose juga merupakan nama dari badan amal yang berasosiasi dengan Miss World, organisasi ini mengumpulkan dana dan berpartisipasi dalam proyek-proyek kemanusiaan di seluruh dunia.
Beauty With a Purpose mendirikan 'Helping Children Worldwide', sebuah badan amal yang berfokus membantu anak-anak diseluruh dunia, terbukti dengan bantuan yang telah diberikan, meliputi pendanaan untuk operasi bibir sumbing di Amerika Selatan, Sri Lanka dan Rusia.
Tur penggalangan dana untuk mendukung anak-anak terlantar di Vietnam, dukungan jangka panjang untuk Operation Hunger dan Nelson Mandela Foundation di Afrika.
Bersama dengan Jackie Chan serta Palang Merah Tiongkok bersama-sama memberikan bantuan kemanusiaan untuk korban tsunami Samudera Hindia 2004 dan masih banyak lagi.
Baru-baru Ini Ditahun 2018 Miss World juga Telah Memberikan Penghargaan Kepada Jahidi, seorang anak yang menerima manfaat dari program BWAP hasil kerja keras Miss Indonesia 2014 Maria Raharjeng bersama tim, yang pada tahun itu mendapatkan juara BWAP di ajang Miss World 2014.
Selain itu, Miss World juga memberikan penghargaan kepada para kontestan yang telah melakukan proyek-proyek kemanusiaan di negara mereka masing-masing.
Miss World Indonesia telah memenangkan gelar Beauty With a Purpose sebanyak 5 kali, yaitu ditahun 2011, 2014, 2015, 2016, dan 2017.
Saat ini title Beauty with a Purpose dipegang oleh negara Nepal, yang diwakili oleh wanita bernama Shrinkhala Khatiwada.