Jujur, saya sendiri sebenarnya tidak tau betul tentang sejarah ini, saya terinspirasi untuk menulis artikel ini setelah saya menonton film "Guru Bangsa: H.O.S Tjokroaminoto" disana ada suatu scene yang kurang lebih begini: "Lebih tepat yang mana tuan? Melayunesia atau Indonesia?"
Nah karena saya sangat kepo, langsung deh nyelam ke google dan mendapatkan apa yang saya ingin tau 😀
---
1850, George Samuel Windsor Earl & James Richardson Logan
Hampir semua pencarian yang saya lakukan merujuk pada kedua nama di atas.
George Samuel Windsor Earl (1813-1865) adalah seorang ahli etnologi Inggris, ia adalah redaktur majalah JIAEA (Journal of The Indian Archipelago and Eastern Asia), sebuah majalah ilmiah tahunan yang terbit tahun 1847.  
Majalah JIAEA sendiri dikelola oleh James Richardson Logan (1819-1869) seorang sarjana hukum lulusan Universitas Edinburgh dan berkebangsaan Skotlandia.
Di terbitan JIAEA tahun 1850, Earl menulis artikel berjudul "On the Leading Characteristics of the Papuan, Australian and Malay-Polynesian Nations" dan menegaskan bahwa sudah tiba saatnya bagi penduduk Kepulauan Hindia atau Kepulauan Melayu untuk memiliki nama yang unik, sebab penyebutan 'Hindia' kerap rancu dengan 'India'.
Dalam artikel tersebut Earl mengajukan dua pilihan nama yakni:
Indunesia (Kepulauan Hindia), atau
Malayunesia (Kepulauan Melayu)
Kata 'nesia' berasal dari 'nesos' dalam bahasa Yunani yang artinya 'pulau'.
Setidaknya dari sini saya paham kenapa banyak sekali kawasan yang mengandung kata 'nesia' seperti Polynesia, Mikronesia, Melanesia, dll. mungkin bisa ditambahkan?
Kembali lagi ke topik.
Earl menyarankan penggunaan nama Malayunesia sebagai pengganti nama Hindia-Belanda sebab sangat tepat untuk ras Melayu apalagi bahasa Melayu lazim digunakan di wilayah kepulauan tersebut, sementara Indunesia lebih tepat digunakan untuk wilayah Srilanka (Ceylon) dan Maladewa yang secara genetik dekat dengan India.
Logan sendiri punya pendapat senada. Di JIAEA edisi yang sama, ia menulis dalam artikelnya "The Ethnology of the Indian Archipelago" bahwa istilah Indian Archipelago (Kepulauan Hindia) terlalu panjang dan – sekali lagi – membingungkan karena rancu dengan India. Hanya saja, ia lebih menyukai nama Indunesia.
Logan kemudian mengubah Indunesia menjadi Indonesia agar lebih enak diucapkan. Sejak itu Logan konsisten menggunakan nama 'Indonesia' dalam tulisan-tulisan ilmiahnya sehingga lambat laun istilah itu menyebar di kalangan ilmuwan etnologi dan geografi.  
Meski begitu, kabarnya akademisi Belanda saat itu enggan menggunakan istilah 'Indonesia'.
---
1884, Adolf Bastian
Adolf Bastian (1826-1905) adalah guru besar etnologi di Universitas Berlin.
Lewat bukunya yang berjudul "Indonesien oder die Inseln des Malayischen Archipel" sebanyak lima volume dan merupakan hasil penelitiannya selama di Indonesia dari tahun 1864 hingga 1880, nama Indonesia semakin populer di kalangan akademisi Eropa hingga pernah muncul anggapan yang keliru bahwa Bastian-lah pencipta nama 'Indonesia'.
---
1913, Suwardi Suryaningrat
Lebih dikenal dengan nama Ki Hajar Dewantara, beliau adalah anak bangsa yang pertama kali menggunakan nama 'Indonesia'. Sewaktu dibuang ke Belanda tahun 1913, beliau mendirikan biro pers dengan nama Indonesische Pers-bureau.
Sejak itu nama 'Indonesia' digunakan oleh tokoh-tokoh pergerakan kemerdekaan tanah air kita hingga nama itu memiliki makna politis yakni identitas suatu bangsa yang memperjuangkan kemerdekaan.
Dalam sebuah tulisannya, Bung Hatta menegaskan bahwa,
"Negara Indonesia Merdeka yang akan datang (de toekomstige vrije Indonesische staat) mustahil disebut Hindia Belanda. Juga tidak Hindia saja, sebab dapat menimbulkan kekeliruan dengan India yang asli.
Bagi kami nama Indonesia menyatakan suatu tujuan politik (een politiek doel), karena melambangkan dan mencita-citakan suatu tanah air di masa depan, dan untuk mewujudkannya tiap orang Indonesia (Indonesier) akan berusaha dengan segala tenaga dan kemampuannya."
---
Belanda bersikukuh menggunakan nama Hindia-Belanda
Semua gerakan yang mengandung nama 'Indonesia' dicurigai.  Pemerintah Belanda juga menolak mosi yang diajukan anggota Volksraad (parlemen) agar nama 'Indonesia' diresmikan sebagai pengganti 'Hindia-Belanda' pada tahun 1939.
Dengan masuknya Jepang pada tanggal 8 Maret 1942, nama 'Hindia Belanda' pun hilang lenyap musnah. Akhirnya pada tanggal 17 Agustus 1945 lahirlah sebuah negara berdaulat Republik Indonesia.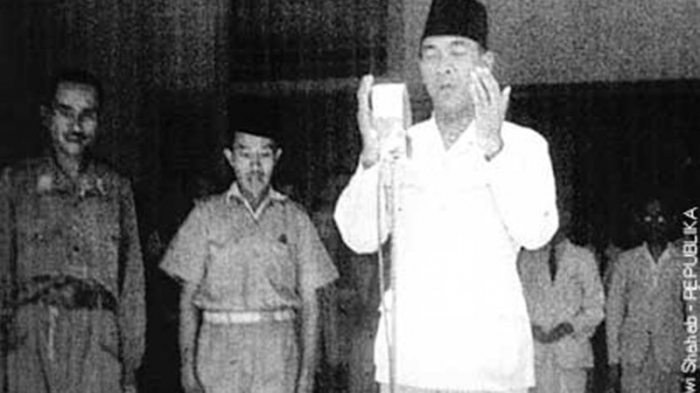 Namun tulisan ini belum selesai, selama googling banyak temuan menarik yang berkaitan dengan tanah air kita antara lain:
Bangsa Tiongkok kuno menyebut kawasan kepulauan kita sebagai Nan-hai alias Kepulauan Laut Selatan, bangsa India kuno memberi nama Dwipantara yang artinya Kepulauan Tanah Seberang, dan bangsa Arab menyebutnya Jaza'ir al-Jawi atau Kepulauan Jawa.
Istilah 'nusantara' yang kita kenal sekarang kemungkinan berasal dari usulan Ernest Francois Eugene Douwes Dekker sekitar tahun 1920-an yang dikenal sebagai Dr. Setiabudi – cucu dari adik Multatuli alias Eduard Douwes Dekker. Istilah tersebut diambil dari kitab kuno zaman Majapahit yakni Kitab Pararaton.
Arti 'nusantara' menurut Dr. Setiabudi adalah "nusa di antara dua benua dan dua samudera", kalimat tersebut yang akhirnya sering digunakan untuk mendefinisikan lokasi geografis Indonesia.
Sementara di era Majapahit, nusantara merupakan penyebutan untuk pulau-pulau di luar Jawa. Sumpah Palapa Gajah Mada yang berbunyi, "Lamun hawus kalah nusantara, ingsun amukti palapa," memiliki arti, "Jika pulau-pulau seberang sudah kalah (dikuasai Majapahit), barulah aku akan beristirahat."
Dalam Geographia Ptolemeus yang diterbitkan pada masa kekaisaran Romawi sekitar tahun 150 M disebut-sebut sebuah pulau yang kaya akan emas bernama Iabadiu (Jabadiu). Pulau ini disebut pula memiliki sebuah kota perak di ujung barat yang dinamakan Argyra. Masih jadi perdebatan apakah nama ini merujuk pada Pulau Jawa atau Sumatera.
Kita mungkin pernah (atau sering) mendengar nama Nanyang Technological University di Singapura yang merupakan salah satu universitas terbaik kawasan Asia. Ternyata istilah 'Nanyang' yang berasal dari China dan berarti Samudera Besar itu merujuk pada negara-negara maritim Asia Tenggara termasuk Indonesia, Malaysia, Philippina, Brunei, dan Singapura namun tidak mencakup negara Asia Tenggara lain khususnya kawasan Indochina. Menurut Wikipedia, penggunaan istilah 'Nanyang' mengacu besarnya populasi etnis migran asal China di wilayah tersebut.
Itulah sedikit yang bisa saya tulis tentang asal-usul nama Indonesia. Sekali lagi mohon koreksinya apabila ada hal yang kurang tepat karena seluruh materi hanya didapat dari Google tanpa bisa saya verifikasi kebenarannya.
Semoga tulisan saya bermanfaat, selamat berakhir pekan!
---
Referensi & Tautan Luar :
Tulisan ini dipublish pertamakali di blog.ryanmintaraga.com, copasing diizinkan dengan mencantumkan URL lengkap posting di atas atau dengan tidak menghapus/mengedit amaran ini
Sumber:KOMPASIANA