Setelah sepeninggalnya Muhammad, para pemimpin Arab disebut khalifah.
Khalifah membangun dan mendirikan Baghdad sebagai pusat kekhalifahan Abbasiyah.
Baghdad, didirikan pada 762 M sebagai ibu kota Kekhalifahan Abbasiyah. Baghdad terletak di pusat antara Eropa dan Asia dan merupakan area penting untuk perdagangan juga pertukaran gagasan. Para akademisi yang tinggal di Baghdad menerjemahkan teks-teks Yunani dan membuat penemuan-penemuan ilmiah. Kecintaan terhadap pengetahuan terbukti di Baghdad. Hal itulah yang menyebabkan era ini, dari abad ketujuh hingga ketiga belas M, mendapat julukan Zaman Keemasan Islam.
Baghdad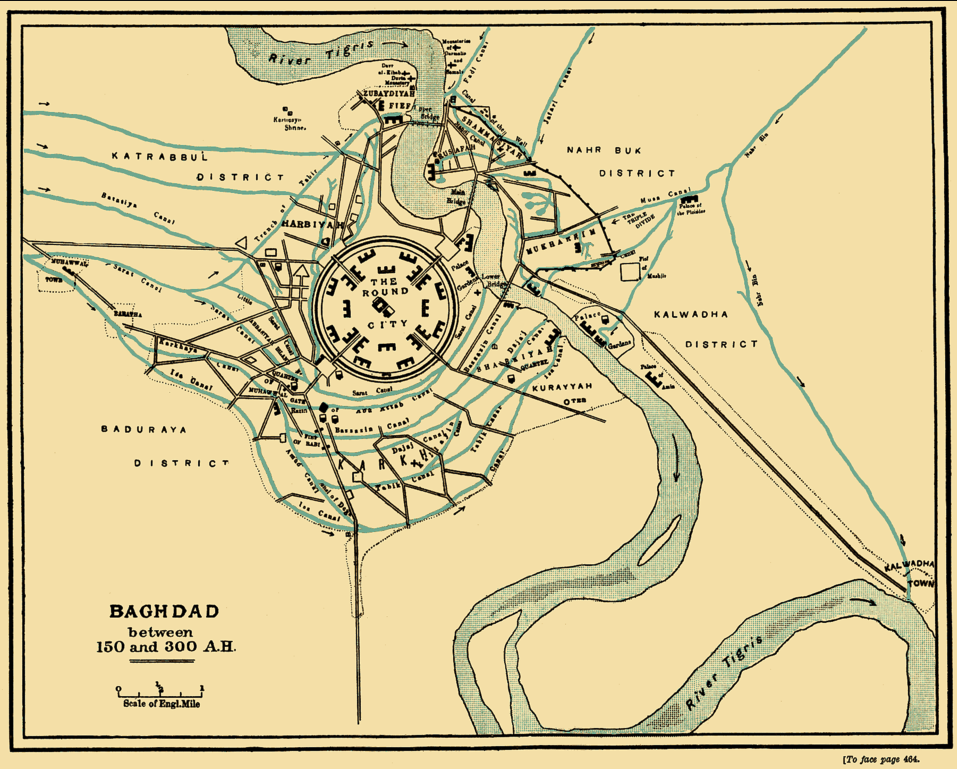 Baghdad terletak di dekat sungai Tigris dan Efrat, menjadikannya tempat yang ideal untuk produksi makanan yang dapat menopang populasi besar.
Abbasiyah membangun Baghdad dari awal sambil mempertahankan jaringan jalan dan rute perdagangan yang telah didirikan orang Persia sebelum Dinasti Umayyah mengambil alih. Bagdad terletak secara strategis antara Asia dan Eropa, yang menjadikannya tempat utama pada rute perdagangan darat antara kedua benua.
Beberapa barang yang diperdagangkan melalui Baghdad adalah gading, sabun, madu, dan berlian. Orang-orang di Baghdad juga membuat dan mengekspor sutra, gelas, ubin, dan kertas. Lokasi sentral dan budaya perdagangan kota yang hidup sangat mendukung adanya pertukaran ide disana.
Baghdad menarik banyak orang, termasuk para ilmuwan, untuk hidup di dalam perbatasannya. Untuk mengetahui seperti apa hidup di kota yang baru dibangun itu, inilah kutipan dari tulisan sejarawan dan penulis biografi Arab, Yakut al-Hamawi, yang menggambarkan Baghdad pada abad kesepuluh:
Kota Baghdad membentuk dua setengah lingkaran besar di sebelah kanan dan kiri tepi Tigris, dengan diameter dua belas mil. Berbagai pinggiran kota, dipenuhi dengan taman, kebun, vila, dan kawasan pejalan kaki yang indah, dan dipenuhi dengan banyak pasar mewah, dan masjid dan pemandian yang dibangun dengan baik, bangunan-bangunan itu membentang cukup jauh di kedua sisi sungai.
Pada masa kemakmurannya, penduduk Baghdad dan daerah pinggirannya berjumlah lebih dari dua juta! Istana Khalifah berdiri di tengah-tengah taman yang luas. Lapangan istana dengan taman-taman dan ditata dengan sangat indah dengan tanaman, bunga, dan pohon, juga air mancur, dikelilingi oleh tokoh-tokoh pahatan. Di sisi sungai ini berdiri istana para bangsawan agung. Jalanan yang luas, tidak kurang dari empat puluh hasta lebarnya, melintasi kota dari satu ujung ke ujung yang lain, membaginya menjadi beberapa blok atau bagian, masing-masing di bawah kendali pengawas yang memberikan pelayanan dari kebersihan, sanitasi, dan kenyamanan penghuninya.

Sejarawan abad kesepuluh Yakut al-Hamawi, dari Lost History 60-61
Khalifah Abbasiyah Harun al-Rashid dan putranya, al-Ma'mun, yang mengikutinya, mendirikan Rumah Kebijaksanaan di Baghdad, tempat itu
adalah perpustakaan, lembaga penerjemahan dan pusat penelitian.
Rumah Kebijaksanaan terus berkembang di bawah pengganti pemerintahan al-Ma'mun, dari 813 menjadi 833. Dia membuat upaya khusus untuk merekrut para ilmuwan terkenal untuk datang ke House of Wisdom. Muslim, Kristen, dan Yahudi semuanya bekerja sama dan bekerja dengan damai di sana.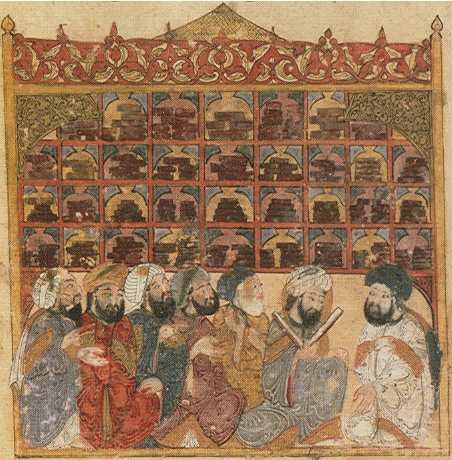 Khalifah seperti al-Rashid dan al-Ma'mun secara langsung mendorong gerakan penerjemahan, yaitu terjemahan formal karya ilmiah dari bahasa Yunani ke bahasa Arab. Penguasa Abbasiyah ingin membuat teks-teks Yunani, seperti karya Aristoteles, tersedia bagi dunia Arab. Tujuan mereka adalah menerjemahkan sebanyak mungkin dari karya-karya terkenal ini agar memiliki perpustakaan pengetahuan yang komprehensif.
Mengapa Abbasiyah begitu tertarik pada penerjemahan besar-besaran?
Selain keinginan mereka untuk memiliki perpustakaan pengetahuan yang komprehensif dan penekanan pada pembelajaran sebagai kegiatan suci, mereka juga memiliki kehausan untuk pengetahuan medis. Dinasti dihadapkan pada permintaan akan dokter yang terampil. Sehingga memiliki pengetahuan sebanyak mungkin yang dapat mereka akses adalah suatu keharusan.
Salah satu cara dinasti Abbasiyah mampu menyebarkan pengetahuan tertulis begitu cepat adalah peningkatan teknologi pencetakan yang mereka peroleh dari orang-orang Cina; beberapa sejarawan percaya teknologi ini diambil setelah Pertempuran Talas antara kekhalifahan Abbasiyah dan Dinasti Tang pada tahun 751. Orang Cina telah menjaga pembuatan kertas secara rahasia, tetapi ketika Tang kalah dalam pertempuran, Abbasiyah menangkap pembuat kertas yang berpengetahuan luas sebagai tahanan dari perang, memaksa mereka untuk mereproduksi kerajinan mereka.
Di Cina, pembuatan kertas adalah praktik yang diperuntukkan bagi elit, tetapi orang-orang Arab belajar bagaimana menghasilkan teks dalam skala yang lebih besar, membangun pabrik kertas yang membuat buku lebih mudah diakses. Pada gilirannya, orang Eropa akhirnya mempelajari keterampilan pembuatan kertas dan memproduksi ini dari orang Arab.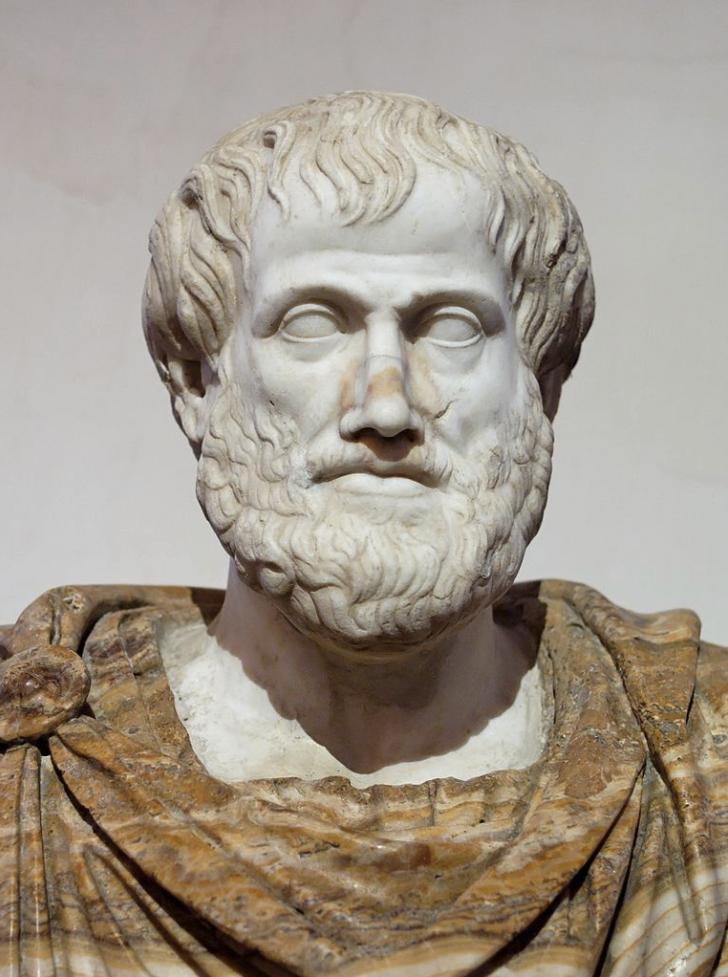 Selama Zaman Keemasan Islam, cendekiawan Arab dan Persia serta cendekiawan dari negara lain dapat membangun informasi yang mereka terjemahkan dari Yunani dan lainnya.
Ibn al-Haythm menemukan kamera pertama dan mampu membuat penjelasan tentang bagaimana mata memandang. Dokter dan filsuf Avicenna menulis Canon of Medicine, yang membantu dokter mendiagnosis penyakit berbahaya seperti kanker. Dan Al-Khwarizmi, ahli matematika Persia, menemukan aljabar, sebuah kata yang memiliki akar bahasa Arab.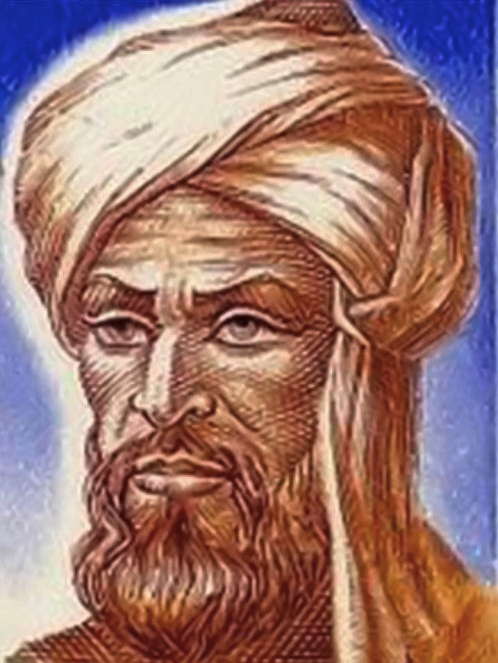 Para ilmuwan yang tinggal di Baghdad selama Kekhalifahan Abbasiyah berkontribusi pada pelestarian pengetahuan Yunani dan lainnya seperti tentang filsafat, astronomi, kedokteran, dan banyak disiplin ilmu lainnya. Selain melestarikan ilmu pengetahuan, para ilmuwan ini menyumbangkan wawasan baru di bidang mereka dan akhirnya meneruskan penemuan mereka ke Eropa.
Referensi:

"Baghdad and the Silk Route: A study on the commercial function of the city of Baghdad in the middle ages."Unesco, 1988.
Bentley, Jerry. H. Traditions and Encounters: A Global Perspective on the Past.New York: McGraw Hill.
"Battle of Talas," Wikipedia.
Hamilton Morgan, Michael. Lost History: The Enduring Legacy of Muslim Scientists, Thinkers, and Artists. Washington, D.C.: National Geographic.
Hourani, Albert. A History of the Arab Peoples. Cambridge: Harvard University Press, 1991, 76.