Nama Hatsune Miku banyak ditemukan dalam sejumlah pernak-pernik berbau anime. Namun, tak banyak yang mengenal siapa Hatsune Miku sebenarnya.
Hatsune Miku (初音ミク) adalah salah satu Penyanyi di  Vocaloid, software yang menghasilkan suara nyanyian manusia milik YAMAHA yang dikembangkan oleh Crypton Future Media. Vocaloid sendiri mempunyai puluhan penyanyi lain selain Hatsune Miku yang dapat digunakan. Nama Hatsune Miku mengandung arti "the first sound of the future" ("suara masa depan pertama").
Salah satu lagunya yang paling populer adalah covernya dari lagu Finlandia "Ievan Polka" atau di indonesia, kita sering menyebutnya "Senam Penguin".
---
Bagaimana Hatsune Miku Berkerja?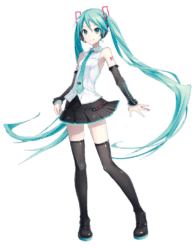 Karakter Hatsune Miku digambarkan sebagai  cewek imut berambut twintail dengan warna hijau muda. Dia punya figur gadis remaja berumur 16 tahun dengan dengan tinggi 158 centimeter dan berat 42 kilogram. 
Dalam software Vocaloid sendiri, suara-suara setiap penyanyi disimpan dalam sebuah data yang disebut Voicebank. Selain bahasa Jepang, beberapai penyanyi juga memiliki voicebank berbahasa Inggris dan China, Hatsune Miku salah satunya.
Voicebank Miku sendiri mengambil sample suara dari suara aktris Saki Fujita.
Hatsune Miku memiliki 7 macam model suara dalam voicebanknya yaitu: original, soft (lembut), sweet (kekanakan), dark (dewasa), vivid (bersemangat), solid (tinggi), dan light (polos).
Lagu-lagunya dibuat oleh para produser vocaloid, kita juga dapat membuat lagunya dengan menggunakan software Vocaloid.
Sekarang jumlah lagunya sudah lebih dari 100.000 lagu. Lagu-lagunya kebanyakan bergenre Pop, Elektro, dan Rock.
Untuk Software Vocaloid sendiri, Yamaha sampai saat ini telah merilis 5 generasi Vocaloid, dengan generasi terbaru "Vocaloid 5" yang dirilis pada bulan Juli lalu. setiap generasi terbaru, Yamaha merilis penyanyi baru serta meningkatkan kualitas suara penyanyi-penyanyi generasi sebelumnya.
Hatsune Miku mulai menjadi idol sejak dia mulai tampil di konser-konser J-Song. Miku pertama kali tampil didepan publik dalam event Animelo Summer Live di Saitama Super Arena pada 22 – 23 Agustus 2009 di Jepang. Bahkan sekarang dia mempunyai 2 konser sendiri yang diadakan setiap tahun di jepang yaitu Magical Mirai, dan Snow Miku.
Kepopuleran Hatsune Miku sebagai idol mulai meningkat saat dia mulai melaksanakan tur konser ke banyak negara di seluruh dunia melalui event Miku Expo yang diselenggarakan tiap tahun. Dan uniknya, bandnya dari orang sungguhan. Indonesia pernah menyelenggarakannya pada tahun 2014 lalu.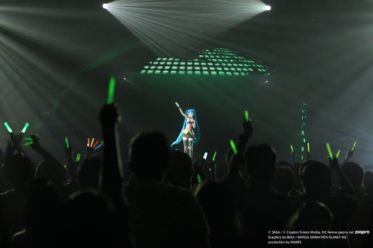 ---
Apakah Hatsune Miku Hanya Dijadikan Idol Virtual?
Kepopuleran Hatsune Miku di Indonesia meningkat drastis sejak adanya fenomena "hatsune miku dari anime apa?" yang melanda komunitas anime lovers dan otaku di Indonesia.
Selain menjadi idol, Miku juga sering berkolaborasi dan menjadi bintang iklan di berbagai perusahaan, seperti Toyota, Lux, Google Chrome, Sony, dan Xiaomi.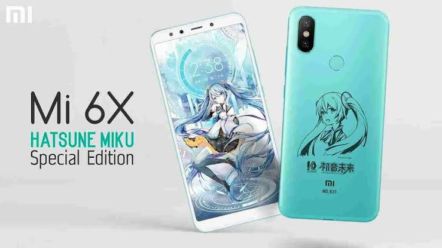 Hatsune Miku juga tersedia dalam bentuk action figure, gantungan kunci, tas, dan segudang aksesoris lainnya. Bahkan namanya dijadikan sebagai nama tim balapan mobil di ajang SuperGT class GT300 sejak 2008 hingga sekarang.
Di Jepang, Hatsune Miku bisa dengan mudah ditemukan dimana-mana. Mulai dari poster di jalan-jalan atau kereta api, iklan di TV, PSP, PS3, PS Vita, Nintendo 3DS dan lain sebagainya.
Generasi Voicebank terbaru dari Hatsune Miku adalah Hatsune Miku V4X dimana suara miku lebih terdengar jernih dan realistik dari generasi sebelumnya (Hatsune Miku V3).
[zombify_edit]