Republik Rakyat Tiongkok (Hanzi Sederhana: 中华人民共和国; Hanzi Tradisional: 中華人民共和國; Pinyin: Zhōnghuá Rénmín Gònghéguó; Pe̍h-ōe-jī: Tiong-hôa Jîn-bîn Kiōng-hô-kok, disingkat RRT, China atau Tiongkok; literal: Republik Rakyat Tionghoa) adalah sebuah negara yang terletak di Asia Timur yang beribukota di Beijing.
Negara ini memiliki jumlah penduduk terbanyak di dunia (sekitar 1,35 milyar jiwa) dan luas wilayah 9,69 juta kilometer persegi, menjadikannya negara ke-4 terbesar di dunia.
Negara ini didirikan pada tahun 1949 setelah berakhirnya Perang Saudara Tiongkok, dan sejak saat itu dipimpin oleh sebuah partai tunggal, yaitu Partai Komunis Tiongkok (PKT).
Sekalipun seringkali dilihat sebagai negara komunis, kebanyakan ekonomi republik ini telah diswastakan sejak tahun 1980-an. Walau bagaimanapun, pemerintah masih mengawasi ekonominya secara politik terutama dengan perusahaan-perusahaan milik pemerintah dan sektor perbankan. Secara politik, ia masih tetap menjadi pemerintahan satu partai.

---
Sejarah Islam di Tiongkok
Sejarah Islam di Tiongkok dimulai ketika tiga Ṣaḥābā (sahabat nabi)—Sa'ad bin Abī Waqqās (594–674), Ja'far bin Abi Thalib, dan Jahsh berkhotbah pada tahun 616/617 dan seterusnya di Tiongkok setelah datang dari rute Chittagong-Kamrup-Manipur setelah berlayar dari Abyssinia pada tahun 615/16.
Sa'ad bin Abi Waqqas kembali menuju ke Tiongkok untuk ketiga kalinya pada tahun 650-651 setelah Khalifah Utsman memintanya untuk memimpin sebuah delegasi ke Tiongkok, yang diterima dengan hangat oleh kaisar Tiongkok.
---
Berikut Beberapa Masjid Besar Di Republik Rakyat Tiongkok
"Tidak seperti kebanyakan masjid lainnya di China, masjid ini memiliki tata letak ruangan seperti kuil-kuil tradisional China, yakni dengan bentuknya yang memanjang, dan mulai dari pintu gerbang sampai ke ujung bangunan terdapat 5 jenis halaman yang bertema tertentu."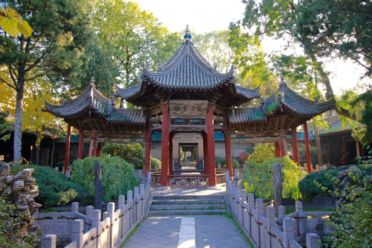 Masjid Agung Xian adalah masjid terbesar dan paling terpelihara apabila dibandingkan dengan masjid-masjid tua lainnya yang berada di China. Masjid ini mengalami rekonstruksi ulang secara besar-besaran pada saat era Dinasti Ming berkuasa. Gaya arsitekturnya merupakan gaya arsitektur tradisional China yang diadaptasikan ke dalam bentuk arsitektur Masjid.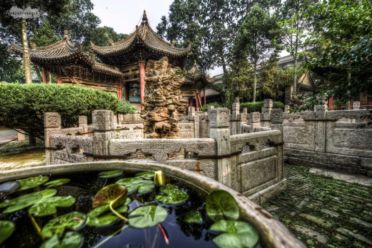 Sama seperti Masjid Agung di Hangzhou, Quanzhou, dan Guangzhou, Masjid Agung Xian diperkirakan sudah ada sejak abad ketujuh. Walaupun demikian, sebenarnya bangunan masjidnya yang dapat kita lihat pada hari ini dibangun pada tahun 1392 atau pada tahun ke dua puluh lima Dinasti Ming berkuasa.
Tidak ada yang tahu dengan pasti siapa sebenarnya orang yang berinisiatif untuk membangun masjid Masjid Agung Xian sehingga bentuknya menjadi seperti yang dapat kita lihat hari ini, namun beberapa pendapat mengatakan dia adalah Haji Cheng Ho, seorang Laksamana Angkatan Laut China yang namanya sangat termasyur karena jasanya dalam mengamankan perairan China dari ancaman bajak laut.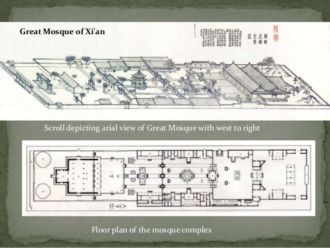 Sumber: GANA ISLAMIKA
---
Masjid Niujie diduga sudah berusia lebih dari seribu tahun. Dari sekitar 68 unit masjid di Beijing, Masjid Niujie termasuk yang paling besar dan megah. Keberadaannya merupakan tonggak awal masuknya Islam di negeri Cina.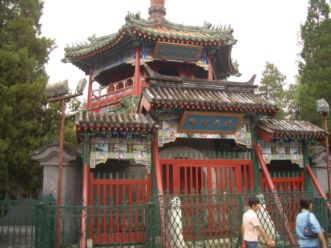 Corak arsitekturnya menandakan perpaduan yang apik antara desain khas Cina dan Arab-Islam.
Merunut pada konteks sejarahnya, Masjid Niujie dibangun saat Kaisar Tonghe dari Dinasti Liao berkuasa. Tepatnya pada 996 Masehi. Ada dua orang berkebangsaan Arab yang ikut menjadi perancangnya.
Kompleks Masjid Niujie mencakup area seluas enam ribu meter persegi. Bangunan utama masjid ini memadukan unsur-unsur peradaban Cina dan Arab- Islam dengan sangat indah. Sekilas, masjid ini lebih menyerupai bangunan-bangunan istana Cina di zaman klasik. Namun, bila kita memasuki ruangan di dalamnya, nuansa Islami begitu kental.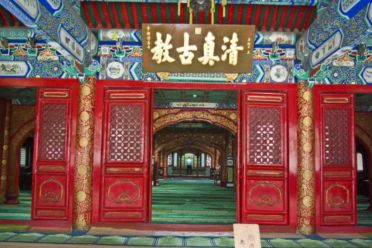 Ada peranan Dinasti Liao dalam mengembangkan masjid ini. Dinasti tersebut meraih puncak kejayaannya pada 1000 Masehi. Luas pengaruhnya hingga ke daerah tundra di Asia Tengah.
Saat itu, Kaisar Liao memerintahkan pemuka Muslim di kawasan Niujie sekarang untuk tidak mendirikan bangunan, kecuali dengan corak khas tradisional.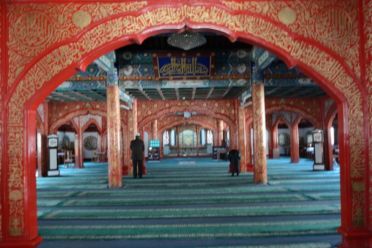 Meskipun di satu sisi aturan ini cukup mengekang, pelaksanaannya justru menyebabkan akulturasi antara Islam dan Cina. Aturan ini pun pada kenyataannya longgar karena umat Islam setempat masih dibolehkan menampilkan kaligrafi-kaligrafi beraksara Arab di dalam masjid.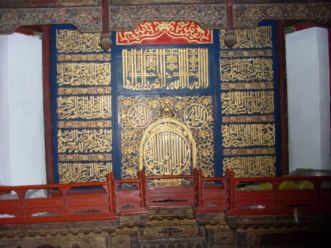 Selain itu, figur-figur makhluk bernyawa juga tidak terdapat dalam masjid ini, sebagaimana rumah ibadah Islam pada umumnya.
Untuk memasuki kompleks Masjid Niujie, pengunjung melewati gerbang yang bersisi tembok sepanjang 40 meter. Tembok ini dilapisi marmer berwarna putih cerah. Di ruang utama yang dipakai untuk shalat, desainnya mengikuti gaya arsitektur Dinasti Qing.
Langit-langitnya dihiasi dengan panel persegi. Setiap sudutnya didekorasi dengan pola-pola geografis berwarna merah, kuning, hijau, dan biru. Pola ini serupa dengan yang kerap ditemui pada aula utama Kota Terlarang (The Forbidden City) di pusat kota Beijing.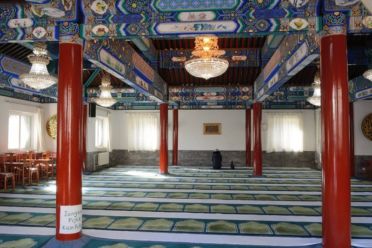 Nuansa perpaduan Cina-Arab tampil jelas dalam kaligrafi ayat-ayat suci Alquran yang menghiasi permukaan birai kaca serta beberapa titik di dinding ruangan ibadah. Meskipun beraksara Arab, gaya kaligrafi Cina begitu kental. Selain itu, ada pula lukisan bunga serta pola-pola tanaman di sekitar kaligrafi Alquran.
Ruangan utama Masjid Niujie bernama Aula Tungku, terdiri atas tiga koridor dan dapat menampung seribu orang jamaah. Sebanyak 21 tiang yang menopang di dalam bangunan masjid ini. Ada sebuah paviliun berbentuk segi enam yang terletak di bagian belakang ruangan.
Bentuk heksagonal tersebut mirip sebuah tungku sehingga dari sanalah nama aula itu berasal.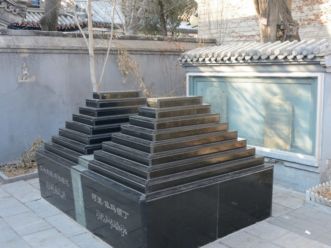 Sebagai sebuah bangunan historis, catatan riwayat Masjid Niujie tersimpan baik. Itu berupa prasasti batu yang mengguratkan sejarah pembangunan masjid ini. 
Misalnya tanggal permulaan pembangunan masjid ini serta jejak rekam penambahan bangunan-bangunan di dalam Kompleks Masjid Niujie. Ada sepenggal pernyataan Kaisar Kang Xi dari Dinasti Qing yang diabadikan pada prasasti tersebut. Tokoh itu berjasa dalam mengadakan renovasi besar atas Masjid Niujie pada 1696.
Sumber: REPUBLIKA
---
Kowloon Masjid and Islamic Centre di Hong Kong
Masjid Kowloon atau disebut Islamic Center Kowloon merupakan salah satu masjid ternama di Hong Kong, Cina. Sejak Islam masuk Hong Kong pada abad ke-19, negara yang dijuluki Pearl of Orient ini telah memiliki lima masjid yang dikenal masyarakat dunia atas keindahan arsitekturnya.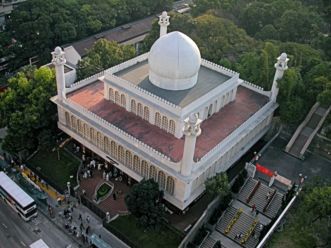 Masjid yang telah dikenal masyarakat dunia, di antaranya Masjid Jamia, Masjid Ammar Wanchai, Masjid Chai Wan, Masjid Stanley, dan Masjid Ibrahim Yau Ma Tei.
Namun, tampaknya di antara lima masjid di atas tadi, Masjid Kowloonlah yang memiliki beberapa keunggulan mulai dari ukuran sampai desain arsitekturnya yang megah dan mewah. Desain arsitektur masjid, yang terletak di perempatan Jalan Nathan dan Jalan Haiphong ini memiliki desain modern tradisional, dengan model persegi.
Jika dilihat dari udara, bentuk kotak dua susun pada masjid yang pertama kali dibangun pada 1896 ini, seperti kue ulang tahun lengkap dengan empat lilinnya. Keempat lilin adalah personifikasi dari keempat menara yang menjulang tinggi. Ada beberapa unsur yang menjadikan Masjid Kowloon ini terlihat lebih unggul setelah direnovasi terakhir pada 2008.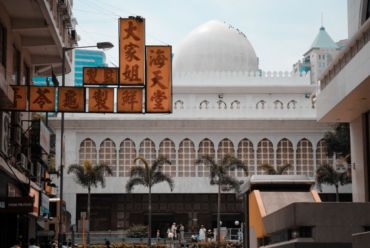 Selain dari bangunannya yang berbentuk persegi, yakni warna merah dan kubah yang berada di atas masjid membuat masjid ini terlihat dinamis.
Setelah melihat keindahan detail arsitektur dari atas, kini saatnya kita melihat detail keindahan pada setiap struktur bangunan besutan arsitektur IM Kadri ini dari bawah. Struktur bangunan yang paling pertama bersentuhan adalah tangga dan pagar warna hitam dengan motif bunga.
Setelah melewati anak tangga baru akan terlihat detail keindahannya dari semua unsur-unsur bangunan masjid, yang pertama adalah ventilasi (roster GRC) dengan motif garis lengkung.
Ventilasi berwarna coklat ini mengelilingi dinding bagian dasar dan dinding lantai dua. Di beberapa negara, ventilasi tersebut sering disebut GFRC Glass Fiber Reinforced Concrete adalah jenis beton komposit, yang memiliki kekuatan akan tekanan tinggi, tahan cuaca, tahan api, dan mudah dibentuk. Setelah melihat roster-roster klasik, saatnya meninjau ruang utama.
Di ruangan yang didominasi warna dasar dari granit putih itu, ada terdapat dua lampu kristal yang cahayanya mampu menyilaukan mata. Dua lampu kristal dengan bentuk sarang tawon ini menggantung sejajar di tengah-tengah ruangan masjid. Sehingga lampu gantung merupakan aksesori satu-satunya yang terdapat pada ruang utama.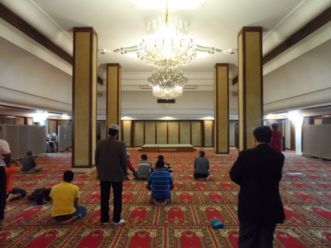 Di lantai pertama ini, memang tak ada hiasan dinding. Hiasan menggunakan lempengan metal hanya terdapat di lantai kedua. Bagian unik lainnya dari masjid ini adalah keberadaan tempat wudhu dengan deretan tempat duduk.
Di setiap pancuran, disediakan tempat duduk berbentuk persegi panjang. Tanpa lahan parkir Meski fungsinya sebagai fasilitas umum, Masjid Kowloon tidak menyediakan lahan parkir bagi jamaah yang hendak membawa kendaraan roda dua atau empat.
Sumber: REPUBLIKA
---
Masjid Dongguan merupakan masjid terbesar di Provinsi Qinghai. Dibangun pada tahun 1380, dan sekarang memiliki sejarah lebih dari 600 tahun. Masjid ini tidak hanya terkenal dengan arsitektur yang megah, tetapi juga sebagai pusat pendidikan agama dan sebagai lembaga pembelajaran tertinggi Islam.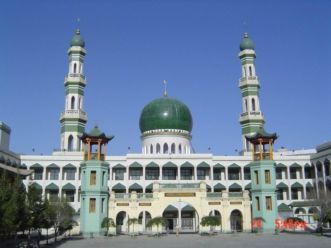 Masjid Raya Dongguan terletak di Kota Xining, Provinsi Qinghai, Republik Rakyat Cina. Dinamai Dongguan, sebab masjid ini berada di Jalan Dongguan. Pemerintah Cina memang mewajibkan semua bangunan fasilitas umum dinamai sesuai dengan nama jalan atau kawasannya dan melarang menamainya dengan bahasa asing, tak terkecuali tempat ibadah.
Penduduk Xining berjumlah lebih dari 2,1 juta jiwa. Sekitar 17 persen atau 330 ribu di antaranya beragama Islam. Mayoritas Muslim berasal dari suku Hui, Salar, Baoan, Dongxiang, dan Tibet. Masjid Dongguan adalah yang terbesar di antara 239 masjid lainnya di Xining. Selain menjadi pusat peribadatan Muslim, masjid ini juga berperan sebagai salah satu pusat pendidikan Islam paling terkemuka di kota Xining dan Cina bagian barat.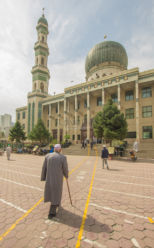 Menurut prasasti yang terdapat di lingkungan masjid, sejatinya masjid yeng terletak di Dataran Tinggi Tibet ini pertama kali dibangun tatkala Kaisar Hongwu memerintah Dinasti Ming (1368 – 1398). Selama enam abad setelahnya, masjid ini telah beberapa kali mengalami renovasi. Kompleks masjid yang berdiri hingga saat ini adalah hasil rekonstruksi pada tahun 1914, perluasan pada tahun 1946, renovasi pada tahun 1979, dan penambahan sejumlah fasilitas pada tahun 1998. Kini, Masjid Dongguan memiliki lahan seluas 13.602 meter persegi.
Rekonstruksi besar-besaran pada tahun 1914 tidak serta-merta mengganti gaya bangunan lama Masjid Dongguan dengan ragam arsitektur lain. Pembangunan kembali aula shalat utama, madrasah, dan gerbang tengah masjid tetap mempertahankan ciri khas masjid yang dibangun pada jaman Dinasti Ming.
Sumber: SCHARIEV