Netflix akan menyapa para penggunanya dengan menghadirkan drama berjudul The School Nurse Files. Drama bergenre fantasi ini diadaptasi dari novel dengan judul sama karya dari Chung Se Rang. Novel tersebut berhasil membawanya mendapatkan penghargaan Hankookllbo Literary Award pada tahun 2019. Lalu, bagaimana sinopsis dari School Nurse Files ini?
Karena berhasil menarik banyak penggemar, novel ini langsung diangkat dalam drama seri yang mana Chung Se Rang yang menjadi penulis naskahnya. Drama ini disutradarai oleh sutradara ternama bernama Lee Kyoung Mi yang sebelumnya menyutradarai drama Crush and Blues.
Karena mengetahui Lee Kypung Mi yang menjadi sutradaranya, banyak penggemar yang sangat antusias dan penasaran bagaimana racikan Kyoung Mi dalam garapan drama beerjudul The School Nurse Files ini.
Baca Juga: 12 Situs Nonton Drama Korea Subtitle Indonesia Terlengkap
Sinopsis The School Nurse Files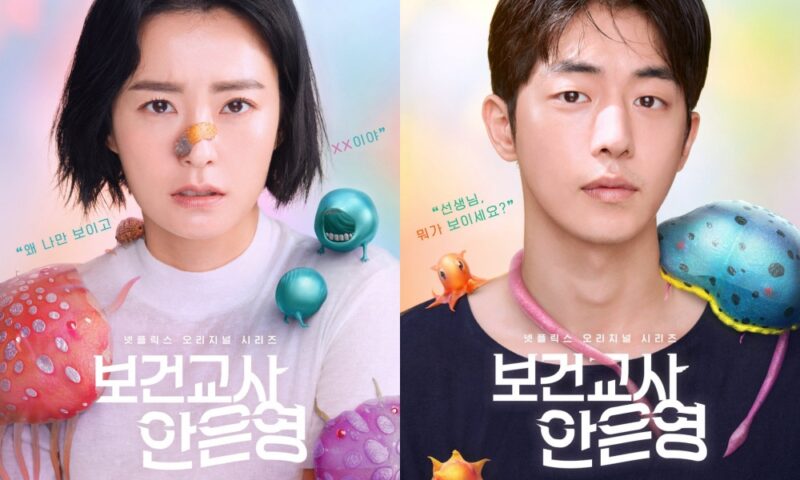 Drama The School Nurse Files bercerita tentang Ahn Eun Young (yang diperankan oleh Jung Yu Mi), seorang perawat SMA. Eun Young memiliki kepribadian yang biasa-biasa saja, tak ada yang spesial darinya. Namun kenyataannya, ternyata dia memiliki kemampuan aneh, ia mampu melihat dunia lain yang diisi oleh makhluk berbahaya, yaitu monster jeli.
Hanya Eun Young seorang yang bisa melihat keberadaan monster jeli tersebut yang terbuat dari sisa-sisa keinginan manusia. Monster jeli ini memiliki perawakan dan sifat yang tidak sama. Makhluk ini akan menghantui manusia dengan cara berbaur pada tubuh manusia. Setiap manusia yang telah terkontaminasi oleh monster ini akan mendapat kesialan.
Eun Young sendiri sangat membenci dirinya sendiri karena kemampuannya tersebut. Namun Eun Young berkeinginan untuk menghancurkan monster-monster tersebut menggunakan pisau mainan pelangi.
Karena hanya Eun Young sendiri yang dapat melihat keberadaan jeli tersebut, orang-orang yang melihat Eun Young sering menggerakkan tubuhnya, menganggap Eun Young orang yang aneh. Padahal Eun Young sedang berusaha membasmi jeli yang mencoba menganggu kehidupan manusia.
Baca Juga: Rekomendasi Film Korea Terbaik
Lanjutan Sinopsis The School Nurse Files
Suatu waktu, seorang guru bahasa Cina bernama Hong In Pyo yang juga merupakan cucu dari pemilik SMA tempatnya mengajar, mulai penasaran dengan ruang bawah tanah di sekolahnya. Pasalnya ruangan tersebut sudah lama sekali terkunci dan belum ada orang yang berani membukanya.
Dan ternyata, ruangan tersebut berisi ratusan monster jeli yang kemudian berhasil bebas. Alhasil sekolah dalam keadaan berbahaya. Eun Young yang mengetahui itu, mulai kewalahan membasmi ratusan jeli yang bertebaran dekat sekolahnya.
Akan tetapi, akhirnya dia mengetahui kalau dirinya bisa mendapat tenaga tambahan dari In Pyo. Karena guru bahasa Chinanya tersebut memiliki kemampuan spesial, bak seperti powerbank yang bisa mengisi daya.
Mereka berdua pun mulai bekerja sama untuk menghentikan monster jeli tersebut. Selagi Eun Young mulai kehabisan tenaga, In Pyo siap membantu sebagai pengisi energi.
Apakah mereka berdua berhasil membasmi jeli dari sekolahnya? Jangan lupa saksikan drama seri The School Nurse Files yang mulai tayang di Netflix mulai tanggal 25 September 2020.
Baca Juga: 10 Film Yang Bisa Membuat Kita Bangkit Lagi Setelah Putus
Pemeran Drama Thee School Nurse Files
| | | |
| --- | --- | --- |
| Aktor | | Memerankan |
| Jung Yu-Mi | Sebagai | Ahn Eun-Young |
| Nam Joo-Hyuk | Sebagai | Hong In-Pyo |
| Yoo Teo | Sebagai | Mackenzie |
| Lee Joo-Young | Sebagai | Han A-Reum |
| Kim Dong-Hyun | Sebagai | English Teacher |
| Jang Joon-Hyun | Sebagai | PE Teacher |
| Kim Ki-Cheon | Sebagai | Principal |
| Sung Nak-Kyung | Sebagai | Security |
| Jeon Kuk-Hwan | Sebagai | Chaiman Hong Jin-Bum |
Trailer