Penggalangan dana kini dapat mudahnya dilakukan secara online melalui situs-situs crowdfunding dan fundraising. Ada banyak situs yang bisa digunakan, salah satunya adalah Kitabisa.com
Namun, baru-baru ini ada sebuah berita yang cukup viral. Dimana seorang gadis yang meminta donasi untuk dapat berkuliah di Universitas Oxford di Inggris. Tak tanggung-tanggung, donasi yang ditargetkan mencapai Rp 178.576.669. 
Kay Jessica Meminta Donasi 178 Juta Untuk Melanjutkan Studi Magister Hukum Di Oxford
Kay Jessica adalah seorang gadis yang mengaku merupakan lulusan UGM dan kini sedang berjuang untuk dapat melanjutkan studinya di Universitas Oxford (Magister Hukum).
Ia mengaku bahwa dirinya mengalami kesulitan keuangan sehingga ia harus mencari uang untuk menyelesaikan studi Magister Hukum nya di Oxford University. Ia mengaku harus meminjam uang ke bank untuk melanjutkan studinya. Bahkan, ayahnya pun kini sedang mengalami sakit kanker dan harus menjalani kemotrapi setelah ayahnya ditipu orang lain.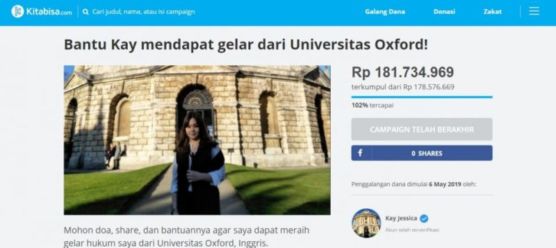 Nah, dari sini ditemukan fakta mengejutkan setelah netizen mencoba menelusuri siapa itu Kay Jessica melalui rekam jejak digital. Terlihat bahwa Kay Jessica sering menggunakan barang-barang branded dalam aktivitasnya. Hal ini, disayangkan oleh banyak netizen.
Beberapa netizen mengungkapkan kekecewaannya melalui tweet
'Agak aneh ngga sih buat penggalangan dana gini? Ya maksud aku kalo dr awal uda yakin ga bisa menuhin biaya utk kuliah di situ kenapa harus maksain diri? Berlian diletakin di mana aja tetap berlian kok.."

Akun @ni****1
"Udah baca kisahnya di kitabisa dan sempat tertarik. But this LV bag, Tory Burch and McQueen scarf. Things that I dont even have. Huft. Sejak kasus Audrey kemaren gue jd bener2 neliti lagi apa2 yg viral. Bisa jadi barang2 luxury itu kado jg sih. Yah balik ke masing2 aja deh.."

akun @pa_*yu.
"haha enak ya gak punya duit tapi masih punya barang branded sama Lifestyle yg terbilang tinggi, gak punya uang tinggal galang dana, beda sama pacarku yg masih berjuang kerja keras buat biayain kuliah akper yg gak murah dan jadi tulang punggung keluarga krn ayahnya telah tiada.." 

Akun @Sep*t*o.
Namun, juga ada netizen yang memilih untuk tidak menjudge dan memilih positive thingking pada dirinya
"sorry banget nih, waspada itu boleh tapi suuzon itu jangan kelewatan. i can confirm that this is true cause i know her sister and my sister knows her. she's done everything she could. kamu gamau bantu gapapa, but don't badmouth her. she already went through so much.."

Akun @yo***no.
Saat ini, donasi yang terkumpul sudah melampui target yang diinginkan yaitu sebesar Rp 181.734.969. Belum tahu apakah dia mampu