Siapa sih yang engga deg-degan saat mau sidang skripsi? Skripsi yang menjadi salah satu indikator kelulusan membuat para mahasiswa ingin tampil sempurna saat menjelaskan bahan materi skripsinya dihadapan dosen penguji.
Nah, apa jadinya dosen penguji skripsi adalah orang yang berkompeten dan orang penting di Indonesia? Hal ini dialami oleh empat mahasiswa Fakultas Ekonomika dan Bisnis Universitas Indonesia (FEB UI). Mereka harus berhadapan oleh Ibu Sri Mulyani sebagai dosen penguji skripsinya.
Sidang skripsi ini berlangsung pada, Selasa (18/06/2019) dimana ibu Sri Mulyani melakukan live streaming di akun Instagram nya saat ia sedang menguji mahasiswanya tersebut.
Keempat mahasiswa FEB UI tersebut diketahui bernama Putra Prima Raka, Khaira Abdillah, Mendra dan Meila. Skripsi Khaira Abdillah berjudulkan "Investigasting the Impact of Internet Expansion on Learning Outcome in Indonesia". Sedangkan skripsi Putra Prima Raka berjudul "The Impact of Intermediate Input on Indonesia's Manufacturing Export Performance of The Global and Non-Global Production Network: Firm-Level Data Analysis".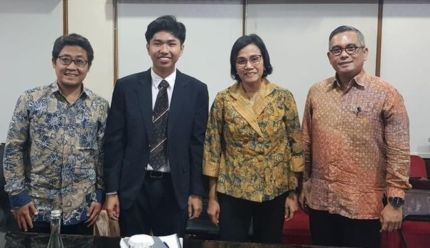 Mereka mampu menyelesaikan sidang skripsinya dengan baik ditengah rasa gugup yang melanda pada diri mereka masing-masing. Pasalnya, mereka baru mengetahu bahwa Ibu Sri Mulyani akan menjadi penguji skripsi mereka H-5 sebelum sidang dimulai.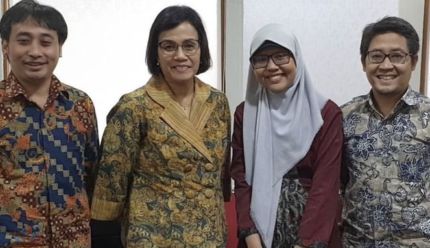 Meskipun bu Sri Mulyani memberikan tanggapan dan masukkan yang menusuk, pedas serta mematikan. Namun, masukannya juga membawa aura positif karena beliau menempatkan diri bukan hanya penguji tetapi juga teman diskusi.