Kedua negara ini memang saling berhubungan, sama-sama terletak di Asia Timur dan juga saling berdekatan. Namun ada perbedaan antara Tiongkok dan Taiwan.
Tiongkok adalah daratan utama, sementara Taiwan adalah sebuah pulau. Selain itu berikut ulasan perbedaannya!
1. Nama Resmi Taiwan dan Tiongkok
People's Republic of China adalah nama resmi Tingkok di dunia Internasional. Sementara, Republic of China, adalah nama resmi Taiwan di dunia Internasional. Republic of China bisa berarti Republik Taiwan.
Dalam istilah Internasional. keduanya memang disebut wilayah China, namun keduanya memiliki ibu kota yang berbeda. Taipe adalah ibu kota dari Taiwan, sementara Beijing adalah ibu kota dari Tiongkok.
2. Wilayah Taiwan dan Tiongkok
Luas Tiongkok adalah sekitar 9.597.000 kilometer persegi, membuat Tiongkok menjadi salah satu negara terbesar di Dunia. Sedangkan Taiwan memiliki luas wilayah yang lebih kecil, yaitu sekitar 36.193 kilometer persegi.
3. Pemerintahan yang Berbeda
Setelah Perang Dunia II, wilayah Tiongkok memang pernah menguasai Taiwan. Namun semenjak 1949, Taiwan memiliki pemerintahannya sendiri, yang berbeda dengan Tiongkok.
Karena memiliki pemerintahannya masing-masing, kedua negara tersebut pun memiliki aturannya sendiri-sendiri. Namun ada satu hal khusus terkait aturan dari kedua negara tersebut.
Terdapat aturan yang disepakati kedua negara itu, yang membuat Taiwan memiliki batasan tertentu dengan dunia Internasional maupun dengan negara-negara lainnya.
Saat melakukan ajang olahraga Internasional pun, Taiwan menggunakan nama "Chinese Taipei" karena sebuah aturan yang disepakati oleh Tiongkok dan Taiwan.
4. Perbedaan Lambang Negara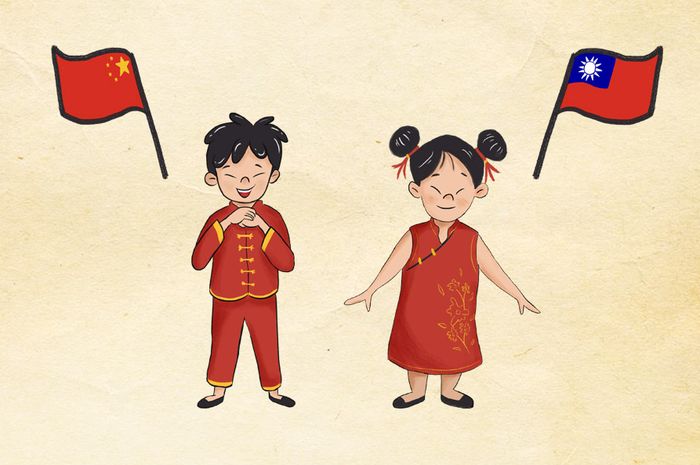 Tiongkok dan Taiwan memiliki dua lambang negara yang berbeda pada bendera mereka. Tiongkok memiliki bendera berwarna merah dengan gambar lima bintang, satu bintang besar dan empat bintang kecil.
Sedangkan Taiwan memiliki bendera dengan dasar merah yang diujungnya terdapat kotak biru, dalam kotak tersebut terdapat gambar matahari putih dengan 12 cahaya.
5. Perbedaan Bahasa
Meskipun baik Tiongkok dan Taiwan sama-sama negara China, namun mereka ternyata memiliki bahasa yang sedikit berbeda. Penduduk Tiongkok menggunakan bahasa Mandarin resmi.
Di Taiwan, bahasa Mandarin merupakan bahasa resmi. Namun kebanyakan penduduk Taiwan menggunakan bahasa Mandarin Hokkien.