Pada tahun 2017, para ilmuwan mengatakan bahwa terdapat benua ke delapan di luar tujuh benua yang kita ketahui selama ini. Nama benua tersebut ialah Zealandia.
Namun benua ini terdapat pada kedalaman 1000 meter di bawah permukaan laut antara Selandia Baru dan Australia. Yup, Zealandia merupakan benua yang tenggelam jutaan tahun silam.
Benua yang hilang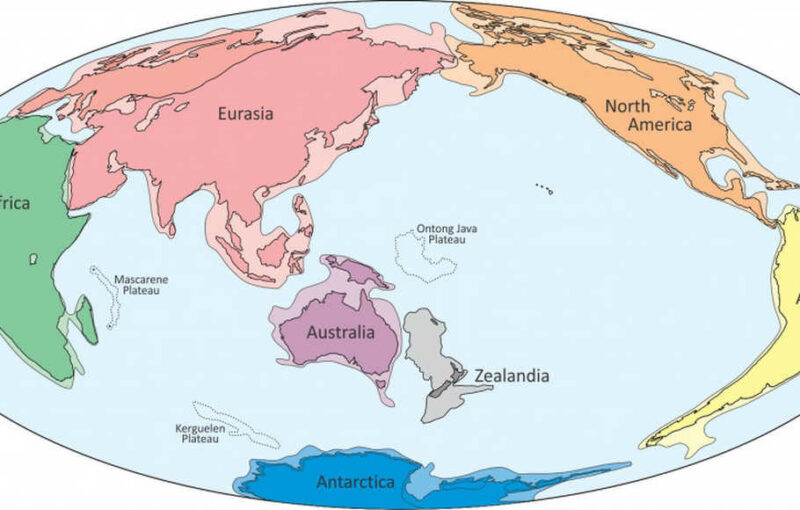 Para ilmuwan dari seluruh dunia yang terdiri dari 32 ilmuwan dari 12 negara, melakukan ekpedisi di Samudera Pasifik bagian selatan. Mereka berhasil menemukan jejak-jejak keberadaan Zealandia, benua yang hilang jutaan tahun lalu.
Zealandia memiliki luas sebesar sepertiga Benua Australia. Para ilmuwan melakukan pengeboran ilmiah di lautan, dan menemukan fosil-fosil kehidupan darat di dasar laut antara Selandia Baru dan Australia.
Menurut Jamie Allan, program director U.S. National Science Foundation's Division of Ocean Sciences, Zealandia adalah benua yang hilang ditelan samudera 60 juta tahun yang lalu.
Mengapa Letak Zealandia di Bawah Air?
Sebelum terbagi menjadi tujuh benua, dulunya Bumi merupakan satu daratan yang luas, yang disebut Pangea. Pangea merupakan benua pertama di Bumi.
Zealandia termasuk menjadi bagian dari Pangea saat itu. Namun, sekitar 80 juta tahun lalu, benua ini terpisah dari Australia dan Antartika yang menyebabkan hampir 90 persen wilayahnya tenggelam. Yup, 100 juta tahun yang lalu, Australia, Antartika dan Zealandia adalah satu benua besar (megabenua).
Zealandia yang wilayahnya sebagian besar sudah tenggelam, semakin tenggelam akibat aktivitas gelombang erupsi gunung berapi di Pasifik (Ring of Fire) 40-50 juta tahun.
Namun, Zealandia menyisakan beberapa pulau. Menurut ilmuwan, Selandia Baru dan Kaledonia Baru adalah bagian dari Zealandia yang tidak tenggelam. Selain itu, karena berada di lempeng tektonik yang berbeda, Zealandia tidak disebut sebagai wilayah Australia.
Mengapa Zealandia disebut benua?
Salah satu alasan Zelandia disebut benua ialah ketinggiannya. Pada bagian dalam laut tempat ia tenggelam, Zealandia memiliki ketinggian yang jauh di atas permukaan laut.
Zealandia memiliki ketinggian yang berjarak hanya 1 kilometer di bawah permukaan laut, sementara jarak permukaan laut ke bagian laut yang paling dalam sekitar 11 kilometer.
Selain itu, batuan-batuan dan mineral yang ditemukan di Zealandia mirip dengan apa yang ditemukan di benua pada umumnya. Ini menunjukkan Zealandia memiliki geologi yang sama dengan geologi benua-benua yang lainnya.