Pada pertengahan Oktober 2019 lalu, di Jerman dihebohkan oleh foto dan video mengerikan oleh sebuah korporasi yang menggunakan hewan sebagai alat uji eksperimen.
Sebuah rekaman video yang diambil secara rahasia tersebut menunjukan beberapa monyet yang menangis kesakitan ketika menjadi bahan percobaan di sebuah laboratorim di Jerman.
Selain monyet, video-video tersebut bahkan menunjukan kucing dan anjing yang sekarat setelah menjalani uji coba tersebut.
Bahan percobaan untuk tes toksikologi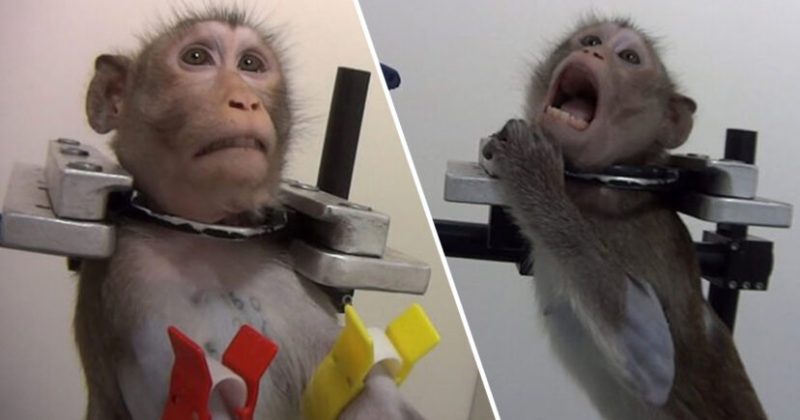 Video yang direkam secara diam-diam oleh salah seorang pekerja, menunjukan rintihan dan tangisan monyet layaknya bayi yang baru lahir ketika mereka digantung di sabuk logam, mereka menjadi bahan ujicoba untuk toksikologi. Selain itu, sebelum hewan-hewan tersebut diikat dan dijadikan sebagai bahan ujicoba, mereka akan dikurung dalam sangkar kecil yang membuat mereka menjadi gila.
Yang bikin miris, mereka mengibas-ngibaskan ekornya ketika mereka dibawa untuk kemudian dijadikan bahan objek yang bisa membuat nyawa mereka hilang.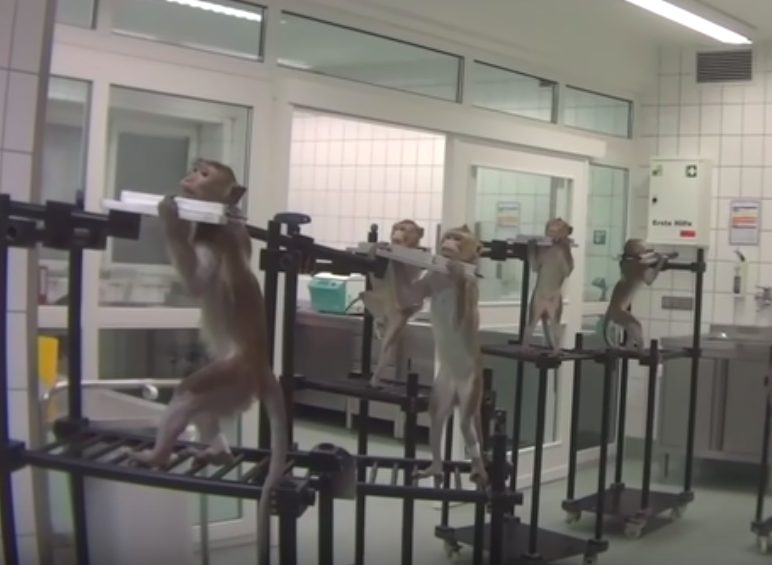 Video dan foto penyiksaan terhadap hewan ini dipublikasikan oleh oleh Cruelty Free International (CFI) dan SOKO Tierschutz. Mereka adalah organisasi no profit yang bergerak dibidang perlindungan satwa.
Tubuh hewan dimasukan racun untuk melihat betapa banyak bahan kimia yang bisa mengakibatkan bahaya yang serius bagi manusia, hal tersebut dilakukan untuk mengukur batas aman dosis bagi manusia.
Hewan-hewan tersebut diduga tidak diberikan pereda nyeri, efek dari racun yang diberikan terhadap tubuh hewan-hewan itu antara lain, pendarahan internal, gangguan pernapasan, demam, penurunan berat badan, lesu, masalah kulit, kegagalan organ, hingga kemartian.
Anakan babi digunakan untuk ujicoba seatbelt mobil dengan ditabrakkan ke dinding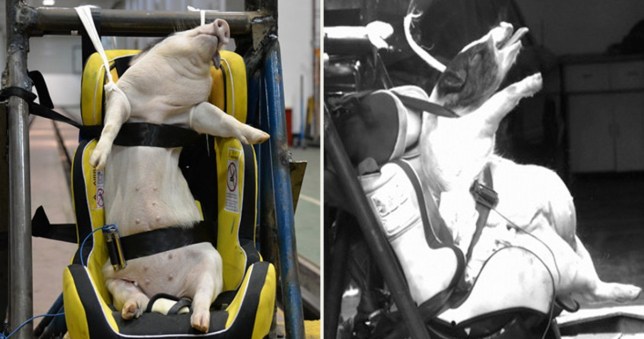 Di Tiongkok, kasus serupa juga terjadi, para peneliti di Tiongkok mendapat kecaman dari berbagai penjuru dunia. Mereka menggunakan anakan babi sebagai ujicoba untuk simulasi kecelakaan berkecepatan tinggi dengan menabrakan mobil pada dinding penghalang.
Sabuk pengaman yang didesain khusus untuk anak-anak tersebut menggunakan anakan babi sebagai objek uji cobanya. Sekitar 15 anakan babi didudukan paksa dan diikat ke kursi mobil dengan menggunakan sabuk pengaman.
Tujuh babi langsung tewas seketika, lalu yang lainnya mengalami cedera parah seperti memar, luka sobek, pendarahan dan memar di bagian dalam. Enam jam kemudian, mereka yang tersisa mati.
Menurut PETA (People for the Ethical Treatment of Animals), sebuah organisasi non profit yang berbasis di Maryland, AS, babi-babi tersebut sengaja tidak diberikan makan dan minum, bahkan diberikan obat bius agar mengurangi stress.
Para peneliti yang dilaporkan dalam International Journal of Crashworthiness tersebut megklaim, mereka menggunakan babi karena anatomi babi sama seperti manusia. Namun klaim ini dibantah oleh PETA, menurut PETA, secara fundamental anatomi tubuh babi berbeda dengan anatomi manusia.
Sumber: Mongabay