Kekaisaran Sriwijaya berdagang secara luas dengan India dan Cina, menggabungkan praktik-praktik politik Buddhis dan Cina ke dalam tradisi mereka.
Kerajaan Sriwijaya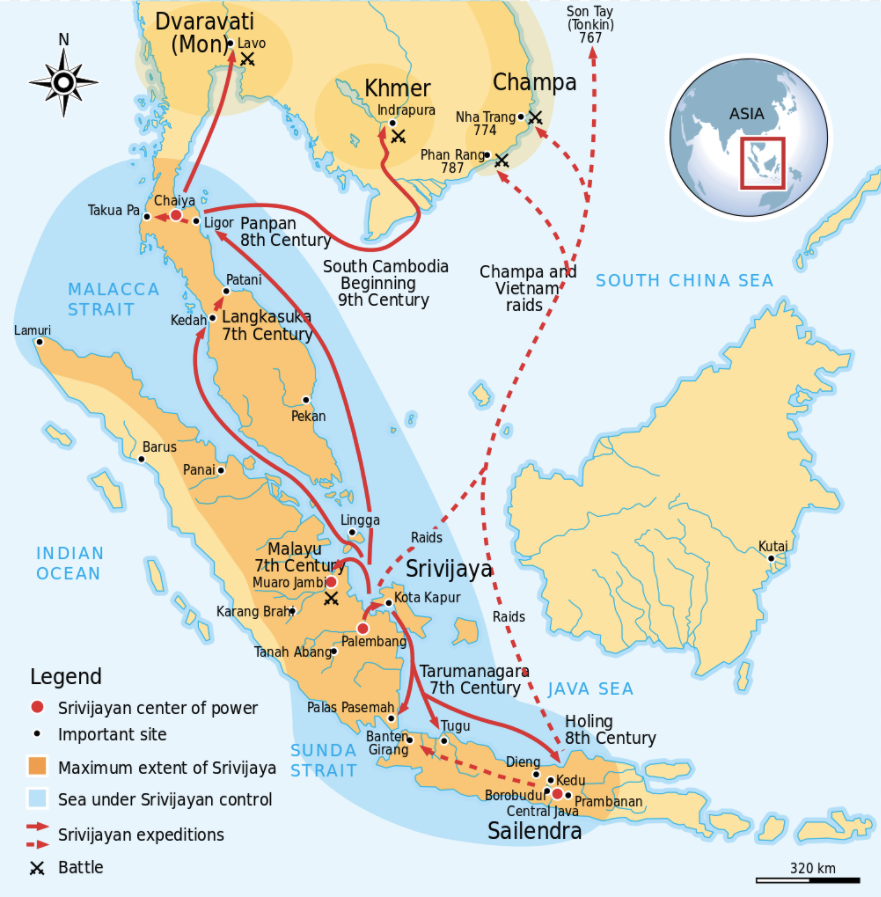 Interaksi di antara orang-orang yang berbeda di sepanjang rute perdagangan menyebabkan sinkretisme, atau campuran, ide-ide agama dan politik. Kerajaan Sriwijaya, yang menguasai sebagian besar kepulauan Melayu di Samudera Hindia dari abad ketujuh hingga keduabelas, adalah contoh sempurna dari perpaduan budaya ini. Kepulauan Melayu adalah sekelompok pulau antara Indocina dan Australia dan mencakup Indonesia modern, Malaysia Timur, dan Filipina.
Seperti apa kekaisaran ini? Sayangnya, para sejarawan hanya menemukan kembali tulisan-tulisan kecil Sriwijaya dari abad ketujuh yang ditulis dalam Bahasa Melayu Kuno. Namun, artefak kekaisaran termasuk patung-patung Buddha dan sisa-sisa stupa, atau kuil-kuil Buddha, memberi kita petunjuk ke peran agama yang dimainkan di wilayah tersebut.
Perdagangan
Kerajaan Sriwijaya mengendalikan dua jalur utama antara India dan Cina: Selat Sunda dari kota Palembang dan Selat Malaka – Selat Sunda, di selatan, dan Selat Malaka, di utara, pada peta di atas. Kontrol ini memperkuat rute perdagangan ke Cina, India, dan bahkan Arab.
Beberapa barang yang diperdagangkan oleh orang-orang di kerajaan termasuk gading, timah, pala, cendana, dan kapur barus yang berbau tajam dan gaharu yang digunakan untuk tujuan pengobatan. Kerajaan memiliki akses ke jaringan perdagangan rempah-rempah dari India dan barang-barang seperti sutra dan porselen dari Cina.
Agama Buddha di Kerajaan Sriwijaya dan sekitarnya
Palembang, sebuah kota besar Kerajaan Sriwijaya, menjadi tempat pemberhentian yang terkenal bagi para peziarah Buddha Tiongkok dalam perjalanan mereka ke India, tempat kelahiran agama Buddha. Lebih dari seribu biksu Buddha tinggal di kota itu, dan para pengembara Buddha disambut di sana untuk mempelajari teks-teks Buddha.
Suatu bentuk Buddhisme yang sangat populer di Kerajaan Sriwijaya adalah Buddhisme Vajrayana, suatu bentuk mistik dari agama yang melibatkan penanaman kekuatan magis atau supernatural melalui yantra, atau simbol-simbol khusus. Kekaisaran Sriwijaya menjadi pusat bentuk Buddhisme ini. Salah satu alasan mengapa versi Buddhisme Vajrayana yang berkembang di Kerajaan Sriwijaya begitu sukses adalah karena para pemimpin Sriwijaya menggabungkan pemikiran Buddhis dengan kepercayaan pribumi tentang sihir. Hal ini adalah contoh lain dari sinkretisme budaya.
Buddhisme Vajrayana berasal dari India tetapi menjadi populer di kekaisaran Sriwijaya selama periode waktu yang sama, menunjukkan bahwa hubungan perdagangan antara kedua daerah di abad ketujuh mungkin telah mempengaruhi agama masing-masing.
Pengaruh agama Buddha juga memengaruhi struktur politik di Kerajaan Sriwijaya. Penguasa Sriwijaya memasukkan filosofi Buddha ke dalam citra publik mereka. Misalnya, sebuah prasasti yang merinci pidato dari penahbisan taman pada tahun 684 M menggambarkan raja Sriwijaya, Sri Jayanasa, sebagai seorang bodhisattva, atau seseorang yang telah mencapai kebuddhaan.
Sri Jayanasa menunjukkan bahwa ia harus memposisikan dirinya sebagai pihak yang beragama dan juga otoritas politik. Dedikasi ini adalah yang pertama dalam catatan tentang seorang pemimpin Sriwijaya yang juga mengklaim sebagai tokoh agama. Fakta yang diangkat raja mengasosiasikan dirinya dengan agama Budha akan membantu citranya menunjukkan kepercayaan agama Buddha di KerajaanSriwijaya selama abad ketujuh.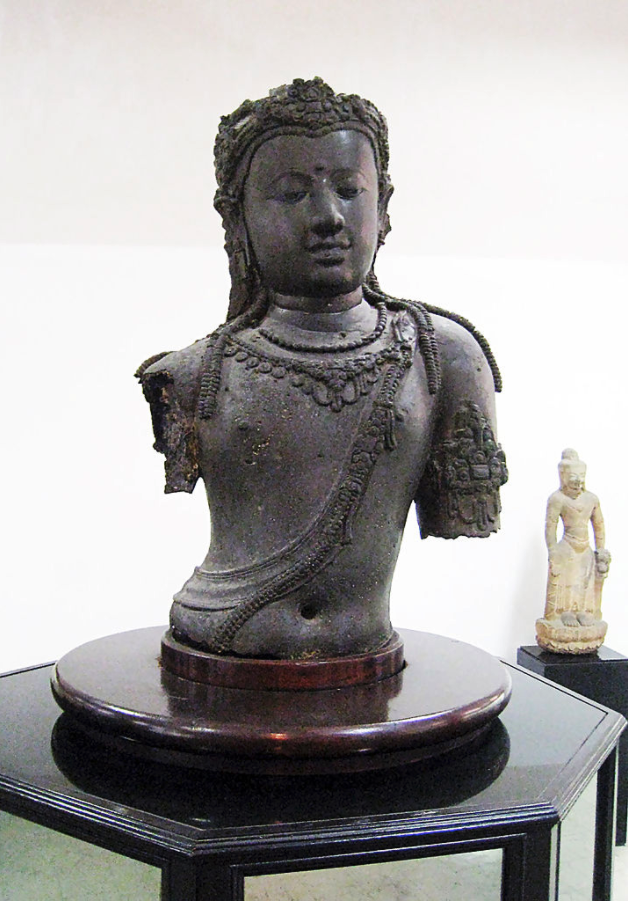 Bahasa Melayu
Bahasa Melayu Kuno adalah bahasa bisnis dan perdagangan di Kerajaan Sriwijaya. Agar berhasil menavigasi pelabuhan dan pasar di seluruh Kepulauan Melayu, seseorang harus bisa berbahasa Melayu Kuno. Menetapkan sarana komunikasi standar membuat transaksi bisnis lebih efisien.
Bahasa Melayu Kuno adalah bahasa Indonesia dari keluarga Austronesia. Prasasti tertulis menunjukkan bahwa Bahasa Melayu Kuno mengandung kata-kata pinjaman dari bahasa Sanskerta, bahasa Indo-Arya yang digunakan di seluruh Asia Selatan. Pengaruh Persia dan Arab yang ditemukan dalam Bahasa Melayu Kuno menunjukkan bahwa bahasa tersebut diadaptasi karena pengaruh orang-orang yang berdagang dengan Sriwijaya.
Mulai lemahnya Sriwijaya dan interaksi budaya baru
Kekuasaan Sriwijaya mulai melemah setelah Chola, sebuah dinasti India selatan, menyerang Kekaisaran Sriwijaya pada 1025 M, mereka akhirnya mendominasi perairan sekitar Asia Tenggara. Sriwijaya yang sudah melemah pun kehilangan sebagian besar kekuatannya yang tersisa pada 1288 ketika Kerajaan Singosari dari Jawa Timur memasukkan mereka ke dalam Kerajaan mereka.
Meskipun Kerajaan Sriwijaya mengalami penurunan, rute perdagangan yang membantu Sriwijaya terus beroperasi secara luas. Misalnya, dari 1405 hingga 1433, seorang diplomat Muslim Cina di bawah Dinasti Ming bernama Zheng He melakukan beberapa pelayaran ke Kepulauan Melayu dan ke Afrika Timur juga Arab. Kemampuan Zheng He untuk menempuh jarak ini menunjukkan bahwa rute perdagangan Sriwijaya melalui Kepulauan Melayu tetap penting untuk bepergian dan bertukar meskipun Kerajaan Sriwijaya tidak ada lagi.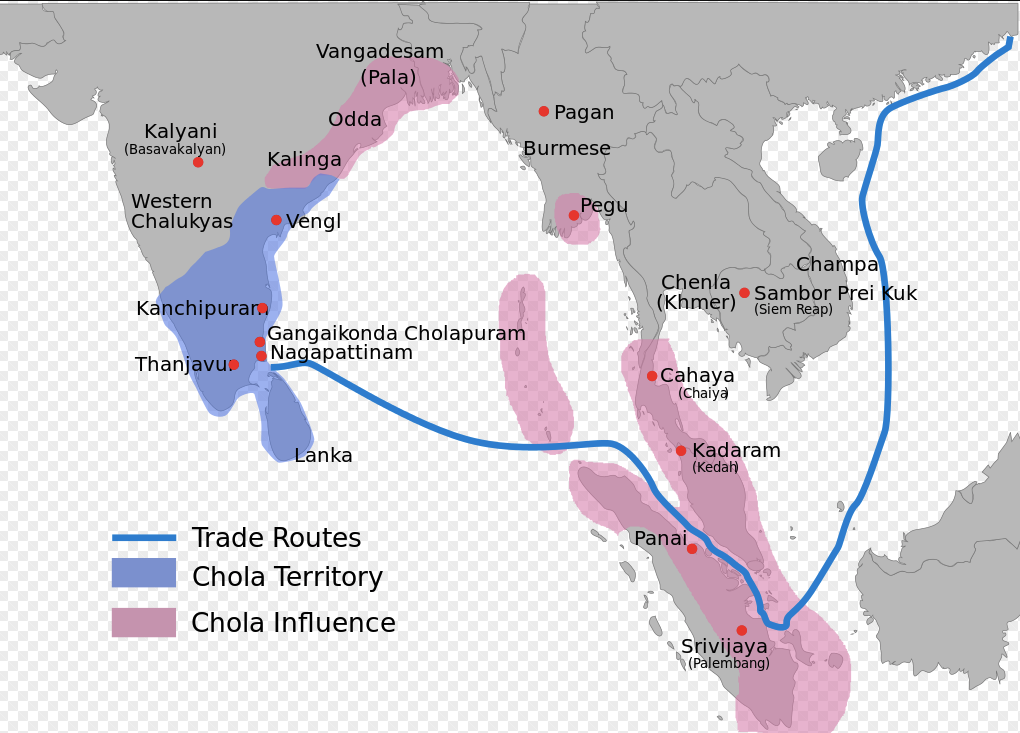 Referensi:
Bentley, Jerry H. et. al. Traditions and Encounters: A Global Perspective on the Past. New York: McGraw Hill Education, 2015.
Dellios, Rosita and R. James Ferguson. "Thinking Through Srivijaya: Polycentric Networks in Traditional Southeast Asia,"
"Srivijaya Empire." Britannica Academic, University of Michigan.
Taylor, Jean Gelman. Indonesia: Peoples and Histories (Yale University Press, 2003).
Yuan, Jing-dong. "India's Rise after Pokharan II: Chinese Analysis and Assessments." Asian Survey 41, no. 6 (November–December 2001).
"Zheng He." New World Encyclopedia, 2016.